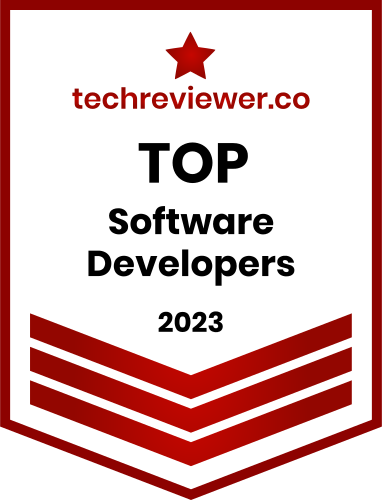 EKLIB SOFTWARE RANKED AMONG TOP 100 SOFTWARE DEVELOPMENT
COMPANIES IN 2023 BY TECHREVIEWER.CO
Eklib Software, an industry leader in the software development landscape, is proud to
announce that it has been recognized among the top 100 software development companies
in 2023 by Techreviewer, a trusted online platform that publishes analytical studies and lists
top software development companies on a yearly basis.
Techreviewer.co, known for its comprehensive analysis and unbiased rankings, utilizes a
rigorous evaluation process that takes into account numerous factors, including company
portfolio, client reviews, market presence, and overall performance. This recognition attests
to Eklib Software's continued commitment to excellence, innovation, and delivering
cutting-edge software solutions.
Eklib Software has a proven track record in delivering high-quality, customized software
solutions that cater to diverse industries worldwide. Its specialization in creating unique and
efficient solutions that address each client's specific needs has helped it earn a spot in the
coveted top 100 list. This recognition cements Eklib Software's position as an industry
leader and trusted partner in software development.
This latest achievement is a testament to the talented and dedicated team at Eklib Software that consistently pushes boundaries to create unparalleled software solutions. It is
also a reflection of the company's focus on customer satisfaction and its drive to help
businesses enhance their operations through innovative and efficient software.
The Eklib Software team is honored to be recognized by Techreviewer, a respected
authority in the industry, and is inspired to continue delivering superior software solutions
to its clients. This recognition motivates Eklib Software to keep on innovating, upholding
high standards of quality, and offering top-notch solutions to its clients.
Eklib Software thanks its clients, partners, and team members for their continued support,
without which this recognition would not have been possible. The company looks forward
to maintaining its exceptional performance and setting higher benchmarks in the software
development industry.
About Eklib Software
"Eklib Software is a premier software development company offering bespoke solutions to businesses around the globe. The company prides itself on its innovative approach, high-quality deliverables, and exceptional customer service. With a strong commitment to progress, quality, and efficency, Eklib Software continues to lead and redefine standards in the software development sector."