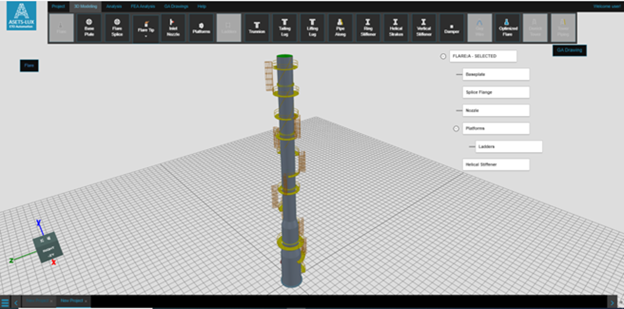 Web Development
FDS is a 3D Stack / Flare / Chimney design software. It is a ready-to-use tool for the Analysis & Design of self-supporting stacks, steel chimneys, flares, exhaust stacks, etc. of a variety of dimensions and attachments. It offers direct intelligent export capabilities with Tekla TM and AVEVA E3D TM.
FDS can be used to analyze self-supported stacks as well as guy-wire stacks & columns – free-standing on the ground or on any other external structure.
The end-user has complete control over the codes used for Along Wind, Across Wind, Stress, and Fatigue. FDS's unique parametric modeling capabilities allow users to model the Stack supporting an external stack / large piping, with multiple supports.
With this exciting new technology, users will be able to log in from anywhere onto the cloud to design their Stack, while safeguarding their own data at their end.
Challenges
New user interface
Performance and memory optimization
Solutions
Used new UI library and new styles, changed structure of UI
Simplified internal data structures
Results
More pleasant and friendly interface
The project runs faster in some places and consumes fewer resources
Industries: Engineering sector, Industry
Solution: Collaboration, Integration
Technologies and tools: React, Redux, TypeScript, ThreeJS, BluepringJS, Papaparse, Java, Spring
STACK/FLARE DESIGN SOFTWARE (FDS)